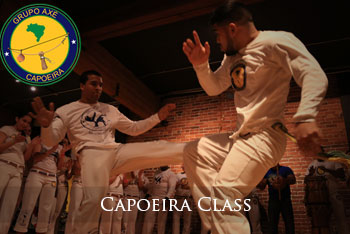 Capoeira is a Brazilian art form that combines music, movement, acrobatics and powerful self-defence. Created by the African slaves over 400 years ago as a means to protect themselves from their oppressors, Capoeria is a very dynamic, beautiful and powerful martial art that provides an intense workout as well as a cultural experience.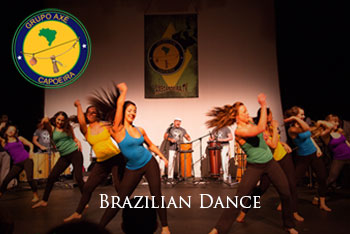 Our dance program offers instruction in a wide variety of popular and unique afro-brazilian dance forms from our professionally trained and certified instructors. Our instructors perform regularly both at home and internationally. Among the steps you will learn are Samba, Maracatu, Afro, Samba Reggae and much more. Our dance classes unique in that they are often accompanied by live Brazilian drumming.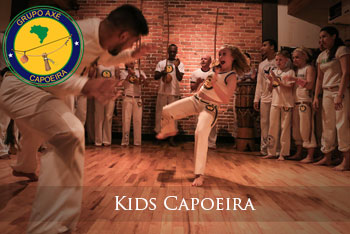 We have been offering comprehensive children's programming at Axe Capoeira Victoria since 2001, where children are introduced to music, play, self-defence, singing, language and culture. Our program instills amazing body awareness and confidence and also facilitates annual projects that encourage cultural exchanges with children in Brazil. The Kids have opportunities to engage in projects involving pen-pals, photography, and art in order to provide support in the form of athletic equipment, instruments, and uniforms for students in Brazil.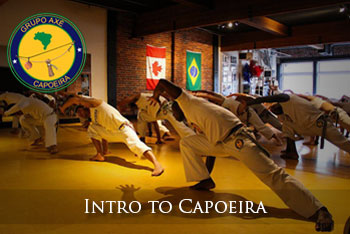 This is an Introductory 4 week Training Period to the basic fundamentals of Capoeira. We recommend this for anyone who has ever thought about starting, but for one reason or another, never gotten around to it. This is your chance! The Intro to Capoeira will help prepare you to join in to our regular programming in a group setting with a stress free environment. It's the best way to start learning CapoeiraCapoeira since you will be in a class with beginners starting Capoeira just like YOU!
Read more & Register
What should I bring to my first class?
Wear white or light athletic fitting clothing and a water bottle to stay hydrated.
Why do I have to wear white in class?
In capoeira white promotes Axé, a peaceful & positive life force energy. It also forms part of the tradition and discipline of our art form.
How do I get a belt?
Once a year we hold a Batizado and Troce de Corda Ceremony where we invite the Mestres of our group and guests to preside over a graduation ceremony where new students receive their first belt, and others trade their old ones when they are ready.
What is a Roda?
Roda is the Portuguese word for ring or wheel and is the circle where the game/sparring of Capoeira takes place. It's the place to put all of the things you learn in class to the test and gain experience as a Capoeirista.
How long does it take to learn?
While this varies greatly from person to person, everyone should put it in their mind that Capoeira is a lifelong pursuit and is something you will always be learning. That said, you should be able to participate in the Roda after only a few classes.
Pricing
| | | |
| --- | --- | --- |
| | Adults | Kids |
| Drop In: | $20 | $15 |
| Intro to Capoeira: | $50 | N/A |
| 1 month unlimited: | $125 | $100 |
| Lifestyle: | $100 | $90 |
| Prepaid 6 months**: | $550 | $495 |
| Prepaid 1 year**: | $1050 | $990 |
| Axé Capoeira Uniform: | $120 | $90 |
*Lifestyle memberships are set up for regularly scheduled automated payments. They are cancellable or freezable at any time, for any reason with 30 days notice from the next withdraw date. Pre-paid memberships are not freezable or refundable.
**Please note that pre-paid memberships are only freezable for medical reasons or in the event of a permanent move as per the consumer protection act of BC.
Promote and foster positive energy called Axé by:

Always maintain a positive, upbeat attitude.
Always wear a clean uniform or appropriate white/light colored clothing.
Clear your mind from distractions prior to class.
Have mutual respect your fellow students and teachers.

Take advantage of the time you have set aside to train by giving 100%.
Take care of your general health by eating and living a clean lifestyle.
Strive for Constant and Never Ending Improvements.
Never speak poorly of others or of yourself.
Keep your practice space clean and tidy.
Everything you practice will improve.
Find a way to contribute.
Always try your best.
Be humble and open to learning new things.
Train a minimum of 2 times per week.
Families in Germany who are facing different health problem, such people can order medications from the Web without order. You can get medicines from the comfort of your desktop. There are divers medicaments for each problem. A lot of men think about "generic viagra wiki". When you order remedies like Viagra you must consider about "viagra wikipedia". Also, think about "how long does it take viagra to work". Sometimes men take more drugs later in life and some have sexual side effects that result in impotence. Some of medicaments fuel desire. When you visit a health care professional about erectile dysfunction, he or she ordinarily should take a detailed sexual history, give you a full physical examination to determine blood sugar, and order an EKG if you\'re over 50. So, purchasing generics from the Web can save money, but keep above mentioned tips in mind.